Training Together, Even While Apart
Indoor Nationals. The first Dual Meet. Penn Relays. These were the first cancellations that broke the hearts of many of the girls on the spring track team. Unfortunately, the cancellations continued. Before we knew it, the entire season was over. However, without any meets, teammates to run next to, or even a track to be on, we trained on.
As a long-distance runner on the spring track team, I followed a training plan that my coach distributed. By entering the number of miles I had run the previous week into a Google sheet, a schedule would appear, outlining the mileage for the upcoming week and what workouts I needed to do. By ourselves, my teammates and I completed the schedule week after week. This included 9 mile runs on our own and running back and forth down streets to mimic the workouts which would typically be done on the track. We were not training for meets. Instead, we were training for time-trials. We would map out a distance, either a half-mile, mile, two-mile, or 5k, and race it. Without having competitors or our typical racing location, we tried our hardest to run as fast as we could. All of us would have preferred having a normal season, running next to one another, and racing against people other than ourselves, but this was a way to continue to set goals and train, despite the cancellation of our season. My teammates, coaches, and I stayed in contact.
Besides recording our runs on our "distance log", we had nightly Google Meets. We talked about running, but we also talked about our days, TV shows, and our new hobbies. Although the Google Meets did not make up for all of our conversations before, during, and after practices, they provided a way for all of us to be together again, adding a sense of normality in this abnormal time.
Many people may wonder why we were still running when there was no reward or official documentation of our efforts. I think the simple answer is that track has always been more than just a sport. It has always been more than just competing against other schools. It's competing against our past selves. It's testing the limits of our own bodies. It's escaping from the stresses of everyday life. Track is a way to be free. No matter the pace. No matter the distance. No matter if we are side-by-side or miles apart.


About the Writer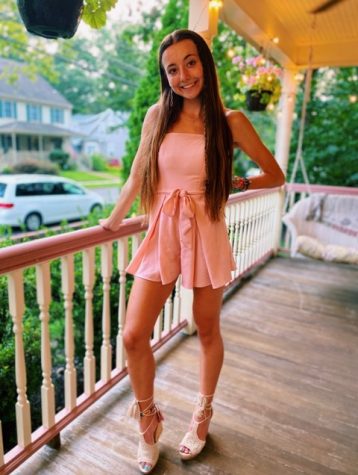 Payton Weiner, Editor
Payton Weiner, '21, has written for the Bulldawg Bulletin for 4 years. Previously she was the Social Media Editor for the Bulldawg Bulletin and a staff...