Dawgs Set to Battle Against Woodbury in Undefeated Duel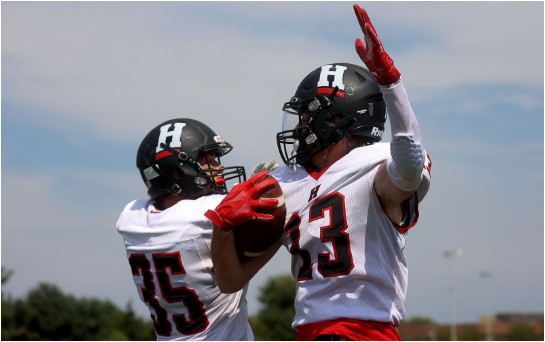 Haddonfield (2-0) matches up against Woodbury (4-0) in their home opener this Friday. The Dawgs are off to a hot start with big wins over Paulsboro (44-26) and Camden Catholic (42-0). Junior quarterback Declan McCarthy has led the team to success in his first season as QB1. McCarthy against Paulsboro connected on 16/19 of his pass attempts with 4 of them being touchdowns, also adding on 1 rushing touchdown. With help from his receivers, senior Carl Forebaugh and junior Matt Zappetti we can expect a big year from Declan. "It's a completely different atmosphere playing at home. It is cool to play in front of the whole school. We're excited to show what we can do."
He has to thank his linemen as they do a great job protecting him. "It is our first chance to protect and honor the H at home," said lineman Jameson Sweeney.
 When the Dawgs aren't passing the ball they rely on the two-headed monster of Dom Hahn and Charlie Klaus. Hahn scored 4 touchdowns against Camden Catholic with an 85-yard kickoff return and averaged 13.6 ypc.  "Having the student section there makes the game more fun and makes you want to play better," Klaus added. 
On the other side of the ball seniors Johnny Mink, Chris Clax, and junior Patrick Ryan shut down offenses. Mink leads the team with tackles for loss with 3, Clax with a sack and a fumble recovery, and Patrick Ryan leads the team with 17 tackles. Pat exclaimed, " We got a different group of guys that like playing with each other and we can put up a fight against anyone. Playing at home for the first time this season is going to be awesome!" Playing at home is important to the Dawgs and they are excited to prove themselves. In Haddonfield's last 5 matches against Woodbury, they have taken 4 out of 5 with some crushing defeats. Expect a closer game this year as Woodbury has been dominating the competition. They are led by senior receiver Jabron Solomon who has racked up 308 rec yards and hauled in 5 touchdowns so far. Playing on the turf in front of the student section is a huge advantage for the dawgs and everyone is pumped to play the first game there. 
Prediction: 24-16 Haddonfield Wins