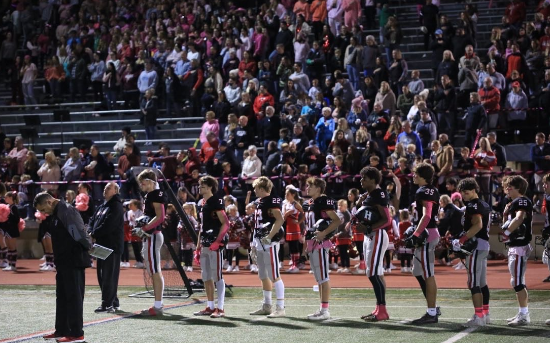 As we enter the month of October, Haddonfield Memorial High School prepares for its annual Pinkout game combined with the naming of Homecoming King and Queen. On Friday, October 13, Haddonfield's stadium will host the game against Woodstown at 7 p.m. Since what seems like the first year of HMHS, the tradition of Homecoming King and Queen being announced at our own stadium during halftime has been one of our more prominent traditions of the fall season. This tradition is combined with our annual pinkout game to raise awareness for those affected by breast cancer. 
This week, the initial voting poll was sent out with a list of the entire senior class, and students chose their top five candidates for homecoming king and queen. The data is being analyzed while I am writing this piece, our officers are currently working hard to determine those results; after this, a second voting poll will be sent out to the upperclassmen with a list of the top-voted candidates, five kings, and five queens. Students have the power to decide and vote for the overall winner for both categories. During halftime of the Woodstown game, the winners of Homecoming King and Queen will be announced and crowned. 
Knowing October is Breast Cancer Awareness Month, Haddonfield Memorial High School's annual pinkout will also occur on October 13th during the football game. Students are encouraged to go all out in pink gear to celebrate the strength of those affected by breast cancer and show support as we stand with them. "Although Breast Cancer is the most common form of cancer, it is still very underlooked, which is why raising awareness is so important, and the Breast Cancer Awareness club is proud to have raised over $1,100 to donate to the Breast Cancer Research Foundation in the past year," says Brooke Bushnell, a leader of the Breast Cancer Awareness club. 
Brooke also had this hopeful statement for the upcoming game, "This game is an opportunity for the community to unite and stand together in the fight against breast cancer, raising awareness and funds to contribute to organizations that can help those affected." Brooke is already showing the pink out spirit and we are hoping anyone who reads this and our student body to come out October 13th and do the exact same.