Winter Sports Updates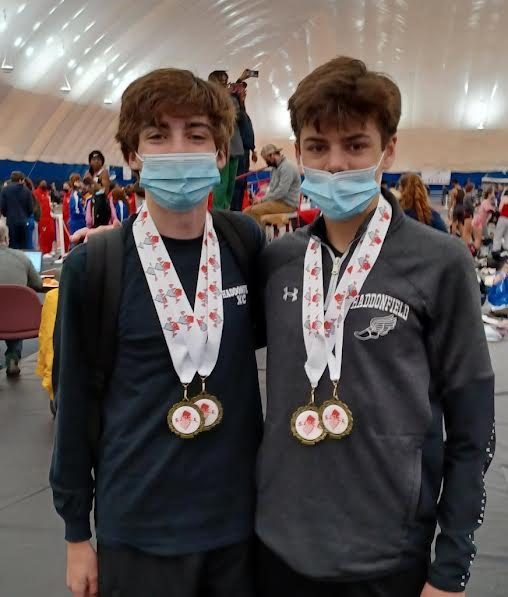 After a successful fall sports season, HMHS's student-athletes are transitioning into the winter season, and are already making a statement! Below is a rundown of each team's status as of January 1, 2022.
Boys Basketball
The boys have a 4-1 record, with their only loss being to Egg Harbor Township by 17 points. Senior Tommy Mooney has led the scoring for the Dawgs so far this season with 92 points total. Other key players include sophomore Darragh Roddy, junior Teddy Bond and seniors Matt Leming and Matt Guveiyian.
Girls Basketball
Although they had two close losses to Haddon Township and West Deptford early on in their season, the girls won their most recent game against Moorestown Friends by 19 points, bringing their record to 2-1. After losing so many senior starters to graduation last year, the younger girls on the team have really stepped up this year, including juniors Riley Mulligan and Brynn Bickel and sophomores Caroline Douglas, Sarah Fetter, and Reese Volovich.
Boys Swimming
The boys have had an impressive season so far, with a 2-2 record (their two losses being to Rancocas Valley and Cherry Hill East). Seniors Cadan Balkey, Conor Jellig, Alex Genel, Ryan Genel, and Ryan Sparks, junior Henry McFadden, sophomore Charles Derivaux, and freshmen Eli Hougah, Sinjin Spellmeyer, and Bennett Wright have been big contributors to the team so far this season. 
Girls Swimming
These girls have had an incredible season so far this year- they have gone undefeated at all four of their meets so far, their most recent victory being 99-71 over Cherry Hill East. Some of the top swimmers so far this season are seniors Lilli Derivaux, Maria Jellig, Sydney Mullin, and Katherine Skelly, and juniors Allie Brown, Molly McDonnell, Lilliana Kuball, Sophia LaPointe, and Alyssa McHale.
Boys Track and Field
The boys have competed in several meets already this season and have done well at all of them! Most recently, traveled to the Bubble in Toms River, New Jersey, and came away with victories in the DMR (Distance Medley Relay, Joey Nugent, Tobi Janssen, Andrew Sullivan, and George Andrus) and the 4×800 (Ian Romea, Tobi Janssen, Robert DiMedio, and George Andrus). Their next big meet is the NJSIAA State Relays, which will also be held at the Bubble.
Girls Track and Field
This talented team has competed in two polar bear meets, one against Cherokee and the other against Highland and Haddon Heights, in mid-December, and two invitationals so far this season. All of the meets were very successful – with over ninety girls on the team this year, this team has so much depth, and although the girls have not been able to compete the past week due to covid concerns, they, like the boys' team, have many more competitions coming up, including State Relays.
Wrestling
Despite losing their first competition 57-15 against Kingsway, the team captured the team title at the Marinelli Tournament, hosted by Egg Harbor Township, on December 30th! Key team members include sophomores James Canuso, Joe Dietz, and Alex Goldman, juniors Will Bayer, Alex Hurly, and Nelson Thayer, and senior Justin Rhyne.