Singleton Brings A Message of Inspiration and Action to HMHS Equity Summit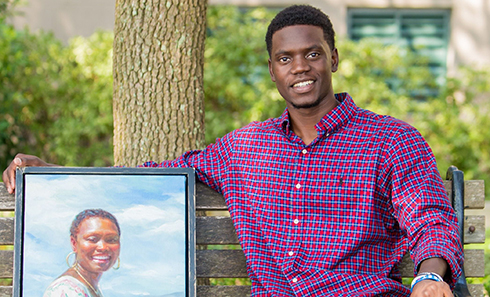 On Friday, April 17th, HMHS hosted its first annual virtual Equity Summit. The summit, organized by Mr. Tarrant, HMHS's Peer Bias Advisor Ms. Lesse, and the Peer Bias Leaders, brought together students from six local high schools: Cherry Hill East, Cherry Hill West, Haddonfield, Haddon Heights, Haddon Township, and Pennsauken. Their intent was to have students from different schools brainstorm ideas about how to best combat inequality and promote inclusivity in their respective schools. In his introduction, Mr. Tarrant stressed the importance of the students coming together: usually, when we see students from different schools, they are competing in sports, academics, or music, yet at the Equity Summit, they all came together with one goal in mind – to work towards equity in their schools. 
The first activity was "Concentric Circles". In breakout rooms, students introduced themselves and divided up into pairs. In pairs, they then answered five different questions for a minute each. Students were not permitted to talk while their partners were talking to emphasize the importance of listening. Often, we try to relate or jump into other people's stories, causing them to feel invalidated and disrespected. This activity was an excellent reminder to look outside of ourselves and devote more of our attention to others. Next, the students shared their preferred pronouns and "Name Stories". Through this, we learned things about each other that we would not have known from just looking at each other or hearing each other's names. The last activity that students did in the breakout sessions was agree/disagree statements concerning equality in our local communities and society as a whole. We then had a thoughtful discussion in which we explained why we responded the way that we did. After returning to the main google meet, students went to breakout rooms with all attendees from their high schools. In these breakout groups, we discussed the various groups in our schools and proposed ideas on how to make those groups more inclusive. Then, we returned to our original breakout rooms and shared some of the solutions that our schools came up with. 
From 12:25 pm to 1:00 pm, students took a lunch break and then returned to the google meet to welcome the guest speaker, Mr. Chris Singleton, before he presented to all HMHS students and staff. Mr. Singleton is a former professional baseball player who began delivering inspirational speeches after his mother was murdered by a racist shooter at her church in Charleston. His speeches focus on forgiveness and equality, and he hopes that, through them, he can end racism. Mr. Singleton's speech had a tremendous impact on me and I could tell that those around me felt the same way. I wrote down the main pieces of advice he had for us and also recorded some of my favorite quotes, which I have listed below. All in all, the Equity Summit was a wonderful experience and I hope that it becomes a tradition that will continue for years to come.
"
"One of my favorite quotes is… 'Life is 10 percent what happens to you and 90 percent how you react to it'… You see the 10 percent for me was the fact that my mother was murdered based on the color of her skin. My 90 percent is reminding people, because somehow we forgot, nobody chooses their skin color. Nobody chooses their first language. Nobody chooses where they're born or what they look like. So I never judge you for those things and you should never judge me for those things""
— Mr. Chris Singleton
About the Contributor

Helene Usher, Editor
Helene Usher, '23, has written for the Bulldawg Bulletin since Freshman year. She is a prolific writer and previously was a staff writer for the Bulletin....