Applying to College in a Pandemic
Throughout the months of March and April, colleges have been sending out their acceptance, rejection, and waitlist letters to students who applied Regular Decision or got deferred when they applied Early Action or Early Decision. Due to Covid-19, most colleges went test optional, meaning applicants did not have to send in their SAT or ACT scores. This caused there to be an influx in applicants, causing acceptance rates to decrease. For example, the University of Pennsylvania's acceptance rate dropped to 5.7 percent from 9 percent. Princeton University's dropped to 4 percent from 5.6 percent. Harvard University's acceptance rate was only 3.4 percent, with its previous low being 4.6 percent.
With this change in the college application process, it has been much more difficult for students to get into their top choices. However, there have been several HMHS students who got accepted into their top choices when they applied Early Decision in the fall. 
Senior Katie Hatch at HMHS got accepted into Wake Forest, a school she has been dreaming about going to for the past couple years. Below is a short interview with her about her college application process and experience. 
Q: Why did you want to go to Wake Forest?
A: Wake has the program I am interested in studying which deals with biomolecular science. I have also loved the campus since the first time I saw it, and I have gotten to see it many times because I would visit my brother a lot and he went to Wake as well and loved it. 
Q: How did you feel during the application process?
A: It was very stressful. I felt rushed because I procrastinated my essay, but I got guidance from peers on it which helped a lot and made me feel a lot better about it all. I also had an interview, which anyone who applied Early Decision had the option to do. That made me feel more confident because it was relatively relaxed. It was basically just a conversation with an alumnus who works in the admissions office. 
How did you feel when you saw your acceptance letter?
Excited. Relieved. I cried a bit. It was really nice because at the time I was stressing about the essays I would have to write over the winter break to apply Regular Decision to other schools, so once I got into Wake I no longer had to worry about doing any other applications. Applying Early Decision was the best choice I ever made. 
What was the impact Covid-19 on your application process?
I didn't have to submit my SAT score to any of the schools, which even though it definitely hurt other applicants, it helped me. I wasn't able to tour schools, so I had to do my own research on the schools. I did a lot of virtual tours, but that doesn't give you the same feel as how you feel actually being on the campus. But I already knew I loved Wake because I've been there before. 
Do you have any advice for the juniors about the college application process?
Definitely stay on top of it all. Make a schedule for yourself with the dates of the deadlines for all the applications to remain organized. It is also really important to finish your main essay early, so you will not feel too overwhelmed. I also definitely recommend applying early because that raises your chances of getting in. So try to determine what your top choice is in the summer or the fall, so you can apply their Early Decision.
About the Contributor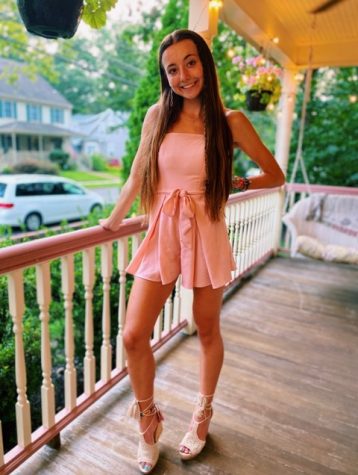 Payton Weiner, Editor
Payton Weiner, '21, has written for the Bulldawg Bulletin for 4 years. Previously she was the Social Media Editor for the Bulldawg Bulletin and a staff...