Summer Picks Worth Reading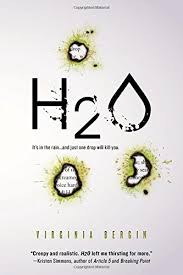 Grace Schaffer, Staff Writer
May 28, 2019
Hang on for a minute...we're trying to find some more stories you might like.
If you're looking for a tearjerker this summer, look no further than Carry Me Like Water by Benjamin Alire Saenz, who is notorious for leaving readers floored and sobbing after the final chapters. Carry Me Like Water centers around a bevy of characters, including Diego, a deaf-mute dishwasher living in El Paso; Helen, Diego's sister who chose to move away from her family; and Lizzie, Helen's best friend who has a strange interaction with a dying patient in the hospital. Saenz deftly navigates family ties, unexpected tragedies, and the decisions we make that alter the lives of ourselves and those around us.Carry Me Like Water is definitely a book worth reading, and yes, you should have tissues on hand.
H20  is a good story to read at the beach this summer, or even on a rainy day- though preferably from under the safety of your umbrella. The story follows a British teenager named Ruby who finds herself in the middle of the apocalypse – all the sea and rain-water has become poisoned by a microbe. H20 is a bit gory in the way that the rain has effects that are basically like acid. So if you aren't into gory stuff, maybe steer clear of this one! However, H20 gets its point across. It's dystopian, and at the same time very plausible, which leaves you contemplating the book. Just remember your umbrella!
About the Writer
Grace Schaffer, Staff Writer
Grace Schaffer, Class of 2020, has been a writer for the Bulldawg Bulletin since she was a sophomore. Her area of interest includes writing reviews of...