Fall Temps Cool, But HMHS Fall Sports Heat Up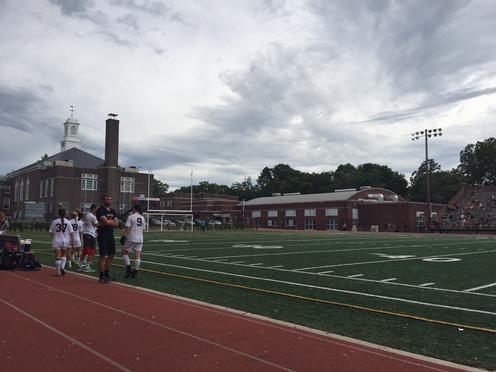 For many students at HMHS, signing up for the cheerleading, crew, cross country, field hockey, football, soccer, or tennis teams mean early mornings and late afternoons spent practicing in the July heat. These summer practices, of course, are not mandatory, but nevertheless every day the high school turf is packed with almost all of the field hockey, soccer, or football players. The boys' and girls' cross country teams could often be seen running down at Pennypacker Park or getting in their striders on the turf. The girls' tennis teams were up at Centennial Courts, practicing hard whenever they could. Additionally, the cheerleaders began preparing for their season, planning each routine and cheer for the games ahead. Finally, although the crew teams did not begin official practices until September, most, if not all rowers practiced and worked out at home or the gym daily. All of this hard work and preparation has not gone to waste, and Haddonfield's fall teams have been having phenomenal seasons.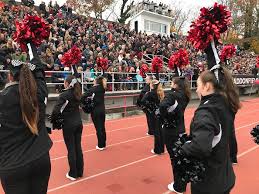 Both the boys' and girls' Cross Country teams have once again finished their regular dual meet season undefeated. On September 28, the teams traveled to New York to compete in the Bowdoin Classic, their first major invitational, in which teams as far as Connecticut and Delaware competed. The girls' varsity team consisting of Sarah Naticchia, Payton Weiner, Lindsay Colflesh, Lilly Sirover, Allison Colflesh, Olivia Stoner, and Kat Rice took third place just points behind rivals Holmdel and Ridgewood. The JV team also finished well, winning their race. The varsity boys' team (Martin Riddell, Stephen Kasko, Andrew Gostovich, Grayson Fasolo, Seth Clevenger, and John Hurly) finished in fourth and the JV team took fifth. Most recently, the two varsity teams went up to Van Cortlandt Park for the Manhattan Invitational. Payton Weiner led the girls' team to a third-place finish and the boys won their race, with Martin Riddell also winning individually. Both the boys' and girls' teams are highly talented and are eyeing state championships at Holmdel Park in November.
Losing many starters last year to graduation has not seemed to faze the girls' varsity field hockey team at all, considering they have a record of 13-2 as of October 17th. On October 15th, they beat West Deptford, who they had lost to earlier in the season, so this win was a nice comeback. Looking ahead, with only a few regular-season games remaining, the team will soon be heading into championship season. On October 21, they will be playing their first playoff game. In addition, senior Abby Marthins was recognized by NJ.com as the week 4 Colonial Conference player of the week. Also, the freshman and junior varsity teams are doing very well. The freshman team finished their season off 8-9: their wins include impressive victories over Paul VI and Cherry Hill West. Also, the junior varsity has an outstanding record of 10-1, including a turn around victory over Collingswood, where the girls worked together to scored 2 goals in under 5 minutes!
Additionally, despite a rough few games early on in the season that involved losing various talented players including Liam Campiglia to discouraging injuries, the varsity football team has an impressive record of 4-2 and despite a tough loss to West Deptford last week, is hoping to win a third consecutive sectional championship. Some key players so far this season have been Mike Carey and Jack Narducci.  Also, the JV and freshman teams have been playing very well so far with records of 1-1-1 and 3-1.
Though the Crew teams have only competed in one regatta so far (The Navy Day Regatta, in which all boats finished very highly), they have been out practicing on the river almost every day since September and will be heading up to Boston this weekend (October 19-20) for the Head of the Charles Regatta. This regatta is a huge deal, not only in terms of literal numbers (there are over 10,000 participants every year) but in terms of the talent and dedication it takes to row in. So, make sure to wish HMHS's rowers good luck and check the athletics page and twitter for updates on their races!
Also, both the boys' and girls' soccer teams are having successful seasons. As of October 14th, the boys' varsity had a 9-4-2 record, with 3 regular-season games remaining before championship season. Likewise, the junior varsity and freshman teams have also been doing very well, and though the two teams only have a few games left to play each, they are sure to close their seasons on a good note. The girls' varsity team is also going strong, with a record of 13-4-1 as of October 18th. The JV team was 7-4 as of October 5th and is sure to finish their season off strong along with the talented freshman team.
Last, but certainly not least, the girls' Tennis team is also having a phenomenal season. After finishing off the regular season undefeated in their conference and winning their 23rd consecutive conference championship, they currently have a record of 22-4. Also, this stellar team recently won their 18th consecutive sectional win on October 15th. Then, senior doubles partners Anna Swartley and Stella DeMarco, who along with Gillian Rozenfeld and Molly Parks are the team's captains, advanced to the semifinal round of the state doubles tournament, and though they lost that match, they are still among the top 4 doubles teams in the state! Mr. Holman, who recently was featured on Fox29, has led HMHS's Tennis teams to over 2,200 victories in his time as coach.