Students Win Awards on National German Exam
Sophomore Chloe Genzel Wins the Gold Medal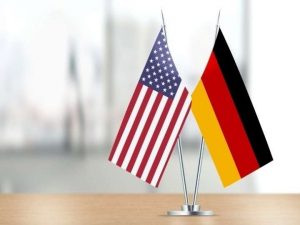 Congratulations are in order for dozens of HMHS students who have been awarded the Gold, Silver, and Bronze Medals, as well as Distinguished Achievement Awards and special recognition on the Presidential Honor Roll for outstanding performance on the 2021 National German Exam for High School Students in Levels III-IV sponsored by the American Association of Teachers of German (AATG):
Gold Medal:      Chloe Genzel (10th grade)
Silver Medals:    Christopher Carr (10th grade), Alexis Guerrieri (10th grade), Gavin Kopp (10th grade), Kevin Muller (10th grade), James Duncan (11th grade)
Bronze Medals:  Macklan Plunkett (10th grade), Ella Fuller(10th grade), Sophia LaPointe (10th grade), Julia Hart (10th grade), Nina Stephens (10th grade), John Eyles (11th grade), Jacob Barrett (11th grade), Alexis Hochgertel (11th grade).
Achievement Awards:   Anne Baxter (10th grade), Henry McFadden (10th grade), Parker Williams (10th grade), Henry George (10th grade), Nelson Thayer (10th grade), Jenna Curley (10th grade), Margaret Morris (10th grade), Courtenay Mackey (11th grade), Keelyn Shim (11th grade), Shaelin McKenna (11th grade), Matthew O'Leary (11th grade), Ceren Alkanat (11th grade), Mia Gagliardi (11th grade), Kelsie Waddington (11th grade.)
Chloe Genzel scored at the 97th percentile within the Southern New Jersey AATG regional chapter making her eligible for an AATG Travel Award. Given continuing pandemic-related uncertainties regarding safety and travel to Germany, AATG's traditional travel award to Germany is not available in 2021. However, Chloe is eligible to apply for "The Next Best Thing to Being There" scholarship at the Waldsee German Language Village, an AATG-recognized national Center of Excellence and America's premier residential and virtual immersion language program in North America, sponsored by Concordia Language Villages and Concordia College. 
Overall, 49% of all 2021 NGE exam participants from Haddonfield Memorial High School, who are students of the German teacher Mrs. Anna Feinleib, were honored by AATG for their outstanding performance on the exam.
Over 25,000 students participated in the exam this year. The National German Exam, now in its 61st year, rewards students through an extensive prize program and provides a means of comparing students in all regions of the US. Hal Boland, teacher of German at Heritage High School in Leesburg, Virginia and AATG President said, "The outstanding performance of these German students in our national competition brings honor to their school, their district, and their German program. The AATG salutes their tremendous accomplishment and the great work their teachers do."
Founded in 1926, the AATG represents German teachers at all levels of instruction. The AATG is dedicated to the advancement and improvement of the teaching of language, literature, and culture of the German‐speaking countries.