Swimming to Success: Bulldawgs Score A State Victory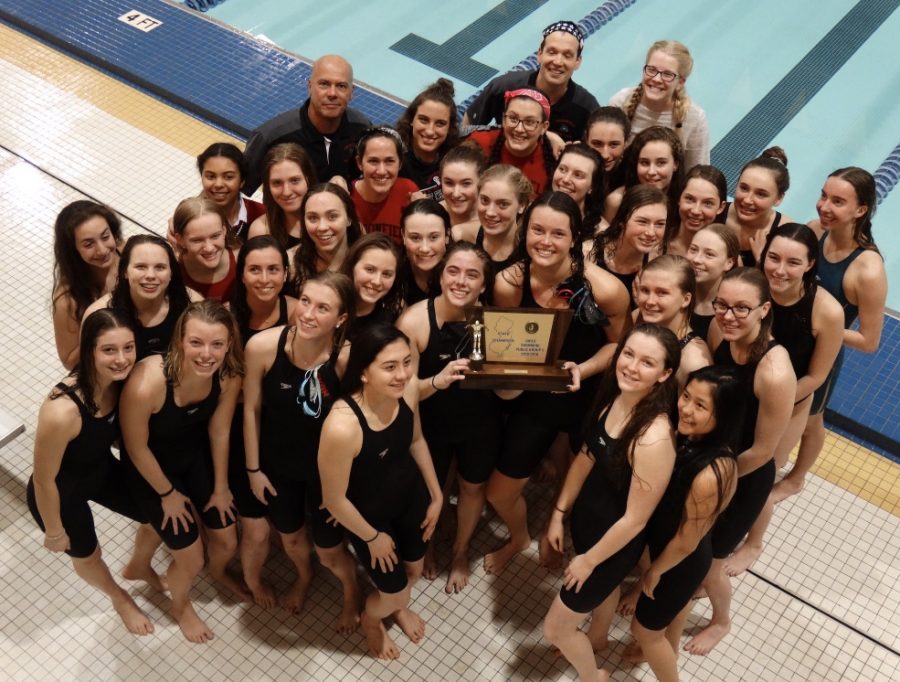 Payton Weiner, Staff Writer
March 6, 2019
Many people may think that going back and forth may not get you anywhere, but that was not the case for the Haddonfield girls' swim team who swam lap after lap to win their first state title in 10 years. For the past four years, the Bulldawgs have advanced to the state finals, but they were not able to claim a victory until this year. They defeated Mountain Lakes 98-72, a team that was a very familiar opponent. The Bulldawgs faced Mountain Lakes for the past three years and fell short each time, losing 56-112 last year, 83-87 the year before, and 77-93 three years ago. Captain Regan McDonnell exclaimed, "It was epic. My friends and I who are seniors were saying we were going to have a meltdown if we didn't win. I mean we lost to them for three years!" Finally, it was the Bulldawgs turn to come up on top.
During the meet, the Bulldawgs never trailed, and they were already winning by 20 by the third event. An individual can score points for her team if she is one of the top five finishers. First place earns 6 points, second earns 4, third earns 3, fourth earns 2, and fifth earns 1. For the relays, the top three relays contribute points. First place earns 8, second earns 4, and third earns 2. With junior, Ava Berzanski's, four first-place finishes, 2 as an individual and 2 in a relay, she was an important factor to this final score. She finished first place in the 100 breaststroke, and her time of 104.79 in this event broke the previous school record. She also placed first in the 200 individual medley, and assisted the 200 medley and 400 free relay teams to win first place as well. Other individual winners included Katharine Skelly in the 50 free, Sydney Mullin in the 200 free, and Lillian Derivaux in the 100 free. All three of these girls are only freshmen, so the future is bright for the Haddonfield Girls' swim team. Skelly remarked, "Contributing to the state championship feels absolutely amazing. It's such a great experience being on a team with everyone and knowing that I helped win something that meant so much to everyone".
Haddonfield's victory was not a surprise; they have been performing well all winter. They finished the regular season with a record of 11-1, defeating schools much larger than Haddonfield like Lenape and Shawnee, sparking a confidence to take down the three-time defending champions. Congratulations to the seniors who ended their high school swimming careers by celebrating a state championship with their team after years of disappointment, and good luck to all of the other swimmers in their years to come, as they seek to become state champions once again.