Hallway Recap! Best of Spirit Week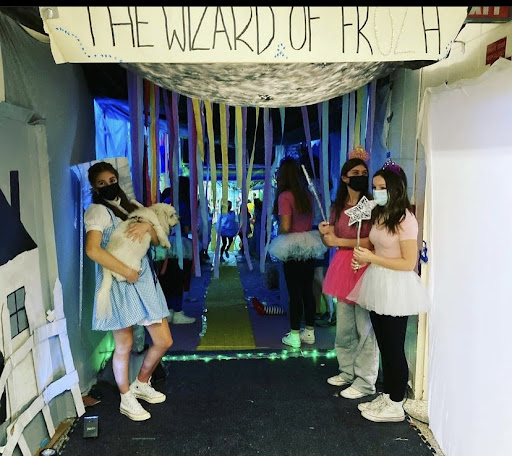 While we all love the Scavenger Hunt, Golden Bulldawgs, and the dress-up days, by far, one of the most special and unique parts of Spirit Week here at HMHS is our hallway decorating. Every year, students of all grade levels come together to create masterpieces, magical worlds that parents and teachers are transported into. This event allows students' creativity to shine through. Plus, it provides students a chance to get involved and work with classmates they might not usually talk to. It is not only a fun way to head into Thanksgiving break; it is a chance to branch out and work with peers in a fun, new setting.
I have never seen so many people so invested in a school event like I saw with hallways. Many students stayed at school for the full 5 hours on Tuesday afternoon and evening, prepping for the parent walkthrough at 8 pm. Decorating started off somewhat slow, but once we all got into the groove, that's when the real magic happened. But it was within the last hour of decorating that we all came together as a class. The stress of needing to finish got our adrenaline pumping. 
By covering every inch of our designated hallways, it was hard to tell what part of the school you were in while inside. They truly do transport you to a different world. When the doors opened, our sets were complete and our actors were ready. That is another great aspect of the hallways: how interactive they are. Instead of parents and teachers simply walking through the hallway and admiring the students' work, all four grades engaged the guests with a story. And, at the end of each hallway, the student council provided a bin where parents could donate to the charity that the grade had chosen.
Unlike years past, some grades were a little newer than others at hallways decorating. Because of COVID-19, hallway decorating was canceled last year. So, both freshman AND sophomores had never participated in this event before; they were on the same playing field. While it seemed like they would have a disadvantage compared to the juniors (who had already done it once), and the seniors (who had done it twice), the younger grades impressed everyone with their awesome designs, truly proving that even without lots of experience, you can still create something awesome. But what did these hallways actually look like? Let's see what HMHS students had in store…
We're off to see the wizard, the wonderful wizard of Oz…The Freshmen whisked us away to a land of yellow brick roads and emerald cities with their Wizard of Oz-themed hallway. Dorothy and Toto (a real dog!) greeted us at the entrance of their hallway. We stepped in and onto the "yellow brick road" where fairies and other creatures of Oz told us to follow it. The cowardly lion and Dorothy were having a sprightly conversation which engaged those who walked by. At the end of the hallway, we found ourselves surrounded by glittering green, marking that we had reached the Emerald City.
Next up, a murder! A creative spin on a classic whodunit board game, the sophomores had us captivated with their Clue-inspired hallway. But instead of the normal Clue rooms and characters, the sophomores made it HMHS-specific. In their story, Mr. Boogard had been killed, and we needed to find out who did it. They recreated the senior lounge, the library (where Mrs. Miller was a suspect), the kitchen (where Mrs. I was a suspect), and a glowing science lab (where Mr. Gallo was a suspect). At the end of their hallway, the true killer was revealed; it was Mrs. I! The aspect of their hallway that drew the most attention was their incredible sets, especially their library and kitchen. Everything looked so clean and professional. Everyone that I talked to really enjoyed the whole vibe that the hallway gave off!
Come with me and you'll be in a world of pure imagination….For their hallways, the juniors took everyone on an extensive tour of the magical Wonka Factory (based on the 1971 film)! At the entrance, Oompa Loompas greeted parents and teachers, offering them a Wonka Bar (mini Hershey bar with "Wonka" wrapping and an Everlasting Gobstopper to return to Mr. Wonka at the end. Guided through the factory by Mr. Wonka himself, we first entered the chocolate river room, where the iconic blue striped boat was floating down the river and Augustus Gloop was stuck in the chocolate tube. In the next room, we found (a very blue and blown-up) Violet Beauregarde and her father in the gum room, warning us not to eat the 3 course dinner chewing gum. Next was the fizzy lifting drink room. Covered with neon bubbles drawn on black paper, glow sticks, "fizzy lifting drinks," a floating Charlie, and real bubbles, this room was my favorite. The next room was Veruca Salt's Golden Egg room. Guests were able to spin a spinner to see if they were a good or bag egg! A stark white room met us next, and we saw Mike Teavee get split up into a million little pieces and travel through television. Lastly, we came to the half-office, where HMHS teachers' pictures were cut in half and plastered on the back wall. Here, Wonka tells Charlie he successfully made it to the end. As a junior myself, I can say it was a lot of work to put together, but it was also so much fun!
And last, but not least, we have the seniors! Their "Roaring 20s" hallway was mainly based on the 1920s and was quite Gatsby-esque. Students stood outside the hallway protesting for women's suffrage (as they did in 1920!). We were given a ticket to enter this speakeasy and were immediately transported into a world of flappers and smooth jazz. An audience listened to a singer and watched his background dancers. In the main room, students were dressed in sparkly, high-class outfits, held champagne glasses, and danced to a live band. This band, made up of HMHS seniors, transformed songs from 2020 into a 1920s style of jazz (which was so cool and very creative). Guests were offered hot chocolate, too! The end of the hallway was a transition back to 2020, where students from two opposing news stations debated hot topics like college board SAT tests, mask mandates, and other opinion pieces. This was meant to represent all of the fake news, opinions, and controversy there was over the many events that occurred last year.
Every grade did a wonderful job creating a unique story that they could share with us. But, when it came time for scoring, the juniors took first place! Based on a rubric that considered different categories of the hallways, the teachers thought that Willy Wonka's chocolate factory deserved the win. Here are the rest of the results:
2nd – Sophomores
3rd – Seniors
4th – Freshmen
I know everyone had a great time putting these hallways together, and we can't wait to do it again next year!