New Course Added to Theater Repertoire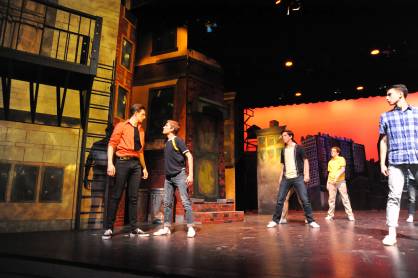 This year, HMHS is offering a new visual art elective that teaches students all of the technical skills associated with various areas of tech theater, including construction, scenic painting, lighting, sewing, and more. Taught by our science and drama teacher, Mr. DiDonato, Theater Production and Design aims to teach students practical skills and give them an appreciation for all of the behind the scene elements that happen in theater. This course encompasses two parts, one part, learning all of the mechanical aspects of tech theater, and the other part, learning how to apply creativity and design to those areas.
Mr. DiDonato was inspired to create this course at HMHS because he "has always been more interested in the tech side of theater." Additionally, he really enjoys woodworking and sewing as a hobby on the side and likes how that can be applied to theater. Theater production and design is important in helping students apply practical skills they can use in their lives outside of school. Senior Faith Ali, who is also head of the lighting crew in HMHS Drama Club and a participant in the new course, describes it as "a great learning experience as we have never had anything like it at the school before, and it's really innovative and a great way to discover new passions." Ultimately, this course encourages students to use their creativity to design technical elements of theater and learn basic skills needed in day-to-day life.