MLK, Jr. Day of Service Opportunities
MLK Day May Look a Bit Different This Year, But Dr. King's Message of Community Remains
MLK Day of Service is a tradition at HMHS. Most students honor Dr. Martin Luther King Jr.'s legacy by using their day off to volunteer and do good deeds in the community. Although there are many restrictions on what can be done this year, there are still several ways by which we can be of service! Here is a list of the service opportunities offered both by the school and local organizations this year, some of which you can still sign up for!
Students had the opportunity to sign up for virtual events with two local organizations: Virtual Dog-Treat Making for Voorhees Animal Shelter and Virtual Fleece-Blanket making for the Haddon Fortnightly!
Zoom Link for Virtual Dog-Treat Making (10 am):
Meeting ID: 936 3694 1140
The dial in number is 929-205-6099.
The password is 5781.
LEO Club is hosting its annual Bandana Band-Making for the Alicia Rose Foundation Monday at 11 am, but like many other events this year, it will be held over Google Meet rather than in person. The Alicia Rose Foundation will include these bands in their teen kits, which will be sent to teens hospitalized with cancer.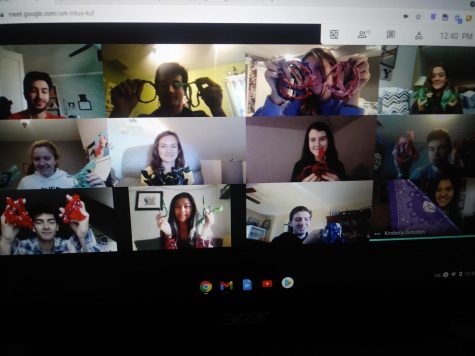 Our Minds Matter will be hosting virtual card-making on Monday at 1 pm. Volunteers will be making cards for High Focus and Hampton Behavioral Health, both of which treat children and adolescents struggling with their mental health.
Google Meet Link for OMM:
http://meet.google.com/miu-zamu-yfg
If you can't make the OMM Google Meet, that's ok! You can fill out this Google Form: to complete your cards on your own.
Finally, Stand with Camden is kicking off its main project for the second semester next week! Volunteers will be reading to students at Forest Hill Elementary School over Google Meet starting Monday and continuing through the end of the semester, hoping to engage students who are struggling with virtual learning or who do not have access to a library. More information about this project to come! 
If you are looking to participate in a service project but were not able to sign up for any of the above, there are still plenty of opportunities! Here are some ideas:
Donate goods to a local food pantry like the Cherry Hill Food Pantry: https://cherryhillfoodpantry.org/donateinfo
Make sandwiches for or donate food and toiletries to the Cathedral Kitchen in Camden: https://www.cathedralkitchen.org/giving-opportunities/
Reach out to a local nursing home to see if you can donate cards
Make cards for first responders in your community
Remember to take the necessary precautions when participating in the service you choose to do! Stay safe!