What It's Like To Have a COVID-19 Positive Relative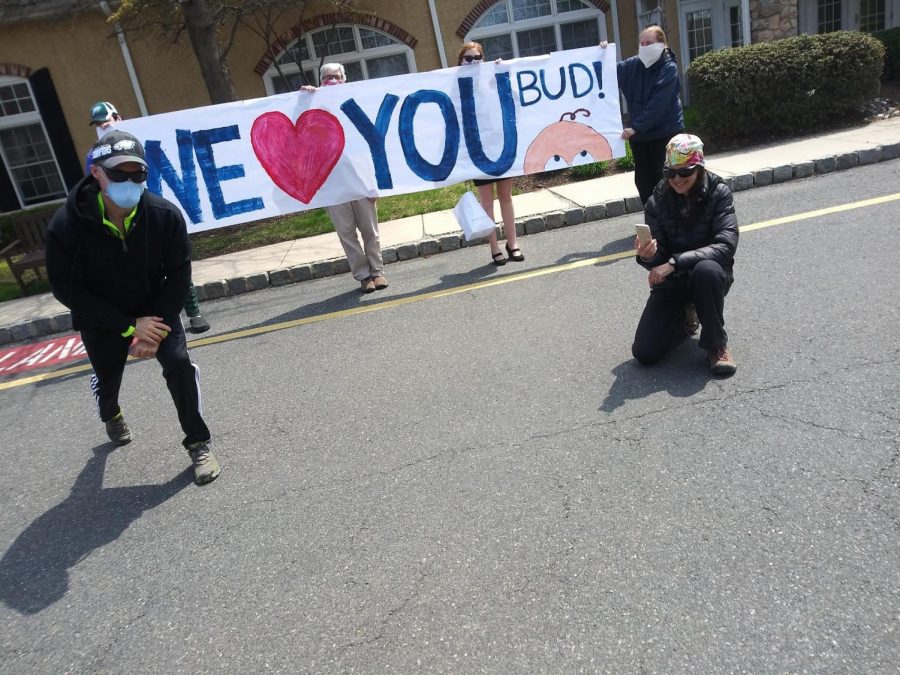 Mary Clare Michael, Staff Writer
April 18, 2020
Editors' Note: Mary Clare's great uncle lost his battle with COVID-19 in April. He was 95 years old. The Bulldawg Bulletin extends its condolences to the Michael family. The article below was written prior to his passing. 
Since I was very little, my great-uncle Bud has been an extremely important person in my life. He has always been a fighter, and has brought positivity to the darkest points of my life. He always comes to dinner with an arsenal of jokes and stories to make us laugh.
Being 95 and having pre-existing heart problems, we became wary at the beginning of this outbreak. He's a retired Catholic priest, so he loves to be among the people, and social distancing doesn't really fit him.
 In the beginning of the outbreak Uncle Bud had a small case of sepsis, so he was hospitalized. Sepsis is an extreme reaction to an infection. It is a common diagnosis, particularly for the elderly. The doctors tested him for COVID-19, and the original batch of testing took around three days to get a result. Those three days were heartbreaking, and everytime the phone rang my family tensed up, as if preparing for the worst.
Luckily, the test came back negative, and he recovered from the sepsis in about a week. However, instead of risking him going back to my grandma's house (where he normally lives) we decided to put him in a rehabilitation center, where he could gain back some of the strength he had lost in the hospital.
This decision was tough, and the worst part was that our family could not discuss this important choice in person. The reality was a lot of phone calls and text chains, which are hard to communicate through effectively.
We found a nice rehabilitation center for him to be transported to, and I was able to see him for the first time in two weeks as the ambulance pulled up. Even though we were physically far from him, he still recognized us immediately, and waved. 
A week into the 20-day rehabilitation program, the nurses reported back to us he had a small fever, so he was tested again. This time the COVID-19 test came back positive. My family was heartbroken, but I almost felt numb to the results after all the previous stress and anxiety we suffered.
The worst part is the lack of communication. Uncle Bud thrives off of people, and being in isolation is very hard on him mentally. He keeps in touch a lot, with about two phone calls a day, but it is heartbreaking to hear his weak voice through such an impersonal thing as a phone call.
Another problem is the lifestyle my great-uncle lives as a priest. He has to say these prayers three times a day, and without his book and glasses, he can't really say them. This is where technology has been a gift; my mom is able to read the prayers to him over the phone and so are his other priest-friends. Hopefully, these daily prayers created a sense of normalcy for him in this abnormal time.
My mom, who is probably the closest to Uncle Bud, was determined to do everything she could to keep him positive. One day, we painted a giant banner and stood with a few relatives six feet apart outside his window. He loves milkshakes, so my mom put one in the dropbox, and he was able to enjoy it as he sat in the window.
A very nice nurse was able to connect us via cellphone, so we could see him and hear him. Seeing him in person was one of the most cathartic experiences of my life. After three weeks, to see his face and hear his voice, and even see him stand up to wave at us, gave all of us such a warm feeling.
I am so very grateful to the nurses that were so kind to him and let us talk for fifteen minutes. It brought so many emotions to hear him crack jokes and wave, and filled me with such hope. However, my greatest fear is that he will simply be another statistic to put into the books, because he is so much more than that.
My Uncle Bud is a fighter, and hopefully will survive this disease. He refuses to give up on both life and God, even though his main interactions are through phones and windows. I long for the day where he can sit down once again for dinner, and tell me a story about something bizarre he experienced long ago. Until then, these little windows of interactions will have to do.
About the Contributor
Mary Clare Michael, Staff Writer
Mary Clare Michael, Class of 2022, is a staff writer for the Bulldawg Bulletin. She has written for the Bulletin since her freshman year.