HMHS's Choirs Keep Up Student and Staff Spirits Amid Coronavirus Shutdown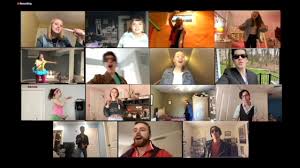 Well, these past two weeks have been crazy, but as always, HMHS's talented students have found a way to entertain their peers, teachers, and the Haddonfield community as a whole. On St. Patrick's Day, HMHS's student-run a cappella group, CoEd, posted a video on Youtube of the group singing their adaptation of "Make Me Cry," by Jacob Collier. They managed to quickly create a masterpiece despite the challenging circumstances, and the result was spectacular!
Four days later, on Friday the 20th, they released another video of them singing "I Lived," by OneRepublic. Again, they did a fantastic job and many are excited about the possibility of more videos in the future. Anna Swartley, who is the president of CoEd this year, expressed, "These virtual performances have been an amazing way for our group to stay connected while social distancing. I've been so grateful for the unity and community within our little a capella family, and rewatching these videos has brought so much joy to my own life. Matt [Eyles], our music director, has become our technical producer as well in this last week. Without his masterful editing skills I'm not quite sure if this project could have been completed! The community support that we've received has been so uplifting and kind. We're taking a bit of a hiatus right now to learn some new material, but we hope to make another video soon!"
In these tough times, this group has brought so much light to the Haddonfield community and that is greatly appreciated by all!
You can check out their videos here:
*Show Choir also released an awesome video last week! Be sure to check it out and follow @HaddonfieldMus on twitter for future videos.
About the Contributor

Helene Usher, Editor
Helene Usher, '23, has written for the Bulldawg Bulletin since Freshman year. She is a prolific writer and previously was a staff writer for the Bulletin....