HMHS Students Compete at Shakespeare Competition!
Katrina Edwards Advances to Nationals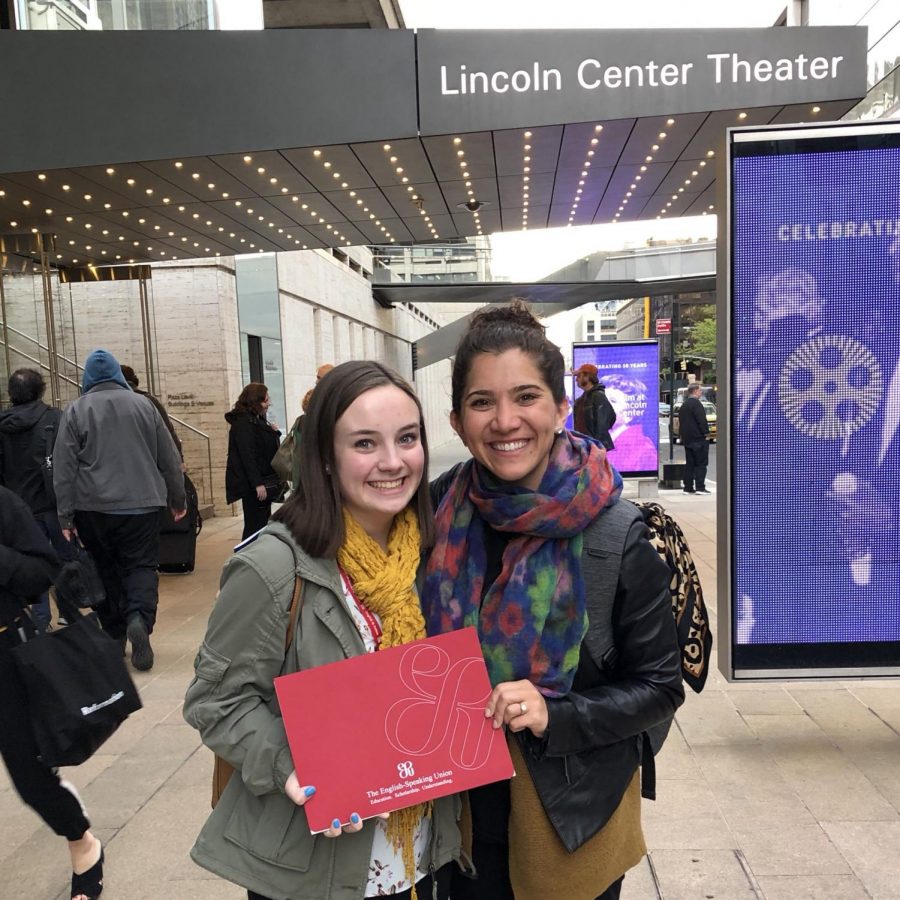 Katie VanArnam, Staff Writer
March 1, 2020
Congratulations to Katrina Edwards and Joseph Keegan for their amazing performances at the Shakespeare competition in Princeton! Both competitors did an incredible job with Keegan being one of the few freshmen at the competition, and receiving incredible notes from the judges. He is sure to amaze everyone once again in upcoming years. Edwards competed for the second year in a row and placed first in the contest, showcasing her phenomenal talent! 
The competitors had a process they had to go to in order to reach that certain stage of the competition. They also had certain requirements to follow. "It starts at the school level, and your school has a competition, so we had one in December. Then the first and second place winners from the school go to the branch competition, there are branches all over the country. Our area goes to the Princeton branch, so Joseph Keegan and I went to Princeton to do it. Each person performs a sonnet and a monologue. I did Sonnet 144 and Isabella's monologue from Measure for Measure," Edwards explained. 
The competition is a high school event that has dated back to 1983. Since its first year, the competition has included around 325,000 students. It now has around 60 branches across the U.S. The competition was founded as a part of the English-Speaking Union, a charity focused on unifying people of different cultures by strengthening communication and helping people realize their ability. The high school level contest focuses on these goals as well as modern academic objectives. These points include higher self-confidence, critical thinking, exploration of universal themes, and the ability to work with teachers and peers through experimental and cross-curriculum learning. The competition consists of three levels: school-based, regional and national. The first three placed winners of nationals receive either a cash prize or opportunity to attend a drama summer program.
Along with the process and history of the competition, the experience itself is thrilling.  The contestants arrived early to warm up and join 15 others participating in activities to help them prepare for their performances. The competitors then performed and the judges critiqued and awarded a winner.  Keegan, being a part of the performance for the first time was very excited. "We arrived and did acting exercises with every kid involved as well as improv games. We did a lot of character building to get us ready for our monologues and sonnets. I actually became close with a couple people there. Then we got on stage, which really helped me get in character because I saw everyone watching and it helped me create my own world. The judges were really sweet and at the end I was able to get feedback from them. It was really fun!" Keegan said. 
 Edwards had been to the competition the year before and explains her excitement this year, "So, I kind of had a better idea this year going into it since I participated last year for the first time. I had Mrs. Campbell there, who's Mrs. Dickstein's sabbatical teacher, and Mrs. Dickstein was there and my parents, so it was really nice to have their support. Antony Post is the co-president of the Shakespeare troupe, so he was there. Now I get to go to nationals, so that will be really exciting!" Katrina Edwards will be participating in nationals at the end of April in New York. Everyone is very excited for her and wishes her luck!