Haddonfield Community Delights in Spirit Week Hallways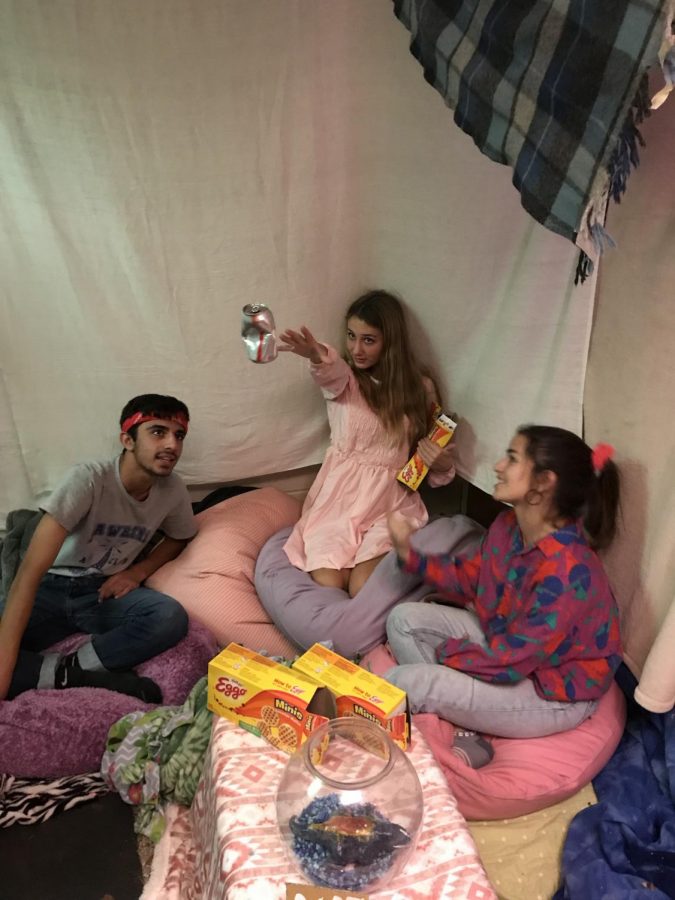 Sofia Carusone, Contributing Writer
December 7, 2019
The snaking line in the frigid weather outside the high school entrance was indicative enough of the 2019 Spirit Week hallway community walkthrough. The night's vast turnout was in for a lovely display of our talents and creativity. 
First in the guided walkthrough was the junior hallway, a playful interpretation of the whimsical world of author and illustrator Dr. Suess. The juniors transformed the science hallways into a fantastical, eccentric fantasy world. Our parents, students, and community were fascinated as they were taken through multiple scenes depicting a variety of Dr. Seuss' most famous books. 
After exiting the display, visitors were immediately greeted with a sign — "Welcome to Hawkins" — introducing the next theme. The sophomore class decorated their hallway to match the themes and aesthetics of the show Stranger Things. Journeying through the main plot of the hit show and admiring the distinct 1980's trademarks was a fantastic experience, both for lovers of the show and those who have never seen it. A well-loved addition to this hallway was the inclusion of a live band stationed at the end, playing songs from the show's soundtrack. 
Next in the tour was the world of Super Mario, as done by the freshman class. For their first time participating in hallway decoration, the freshman class showed their skills in creativity. Displaying multiple games from the franchise, this hallway was surely an explorative and immersive experience. 
After crossing the finish line in the freshman hallway, we are greeted with the final hallway, decorated by the senior class. The seniors took creative liberty in creating their own story of a family who gets involved with a robbery, and consequently, prison life. In their hallway, they gave priority to the teachers, who experienced a performance in reference to the show Brooklyn 99, where the criminal lineup sang the 90's pop hit "I Want It That Way" by the Backstreet Boys. 
Our community and parents were proud of their children's demonstrations of dedication and creativity. "We really appreciated how each class demonstrated teamwork and the extra bits that they each added to make their hallway unique. We also appreciated the extensive use of carpet," says one sophomore's family. Other families made notice of the unique touches including live music or creative construction. 
At our pep rally, student council announced the winners of this year's hallway decoration competition as the juniors. The 2021 class rejoiced in their victory and the hard work they put into their hallway. 
Overall, this year's Spirit Week hallway walkthrough was a well-enjoyed night of one of Haddonfield's favorite traditions. We wholeheartedly congratulate the Junior Class of 2021 on this year's victory!