A Student Council Dynasty: Mr. Bree & Mr. Romea Speak on Spirit Week and More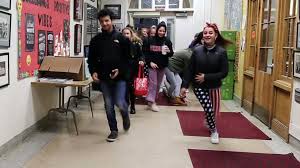 Sam Raus, Staff Writer
November 12, 2019
Over the past several years, the Student Council has been led the dynamic duo of Mr. Romea and Mr. Bree. They both became advisors around the same time, with Mr. Bree taking over the organization in 2005 and Mr. Romea joining in 2009 after spending his first year at HMHS as a class advisor. Mr. Bree started teaching at HMHS in 2003, quickly diving into the school community as an advisor. Likewise, Mr. Romea became a HMHS teacher in 2008, a mere year before becoming a Student Council advisor. 
Both revealed a deep sense of drive and passion for the organization, which they have been a part of for a decade now. "For the most part, we've always been advisors together. And it's really essential in being able to bounce ideas off of each other and make sure final decisions are thought-out," Mr. Romea expressed when asked about the collaborative nature of having two advisors. Furthermore, Mr. Bree expressed a similar sentiment, sharing that they are able to keep the Student Council balanced with their varying perspectives and experiences. 
Mr. Romea shared how his prior involvement in Student Council in high school and involvement with similar organizations when he worked at other schools influenced his decision to become an advisor at HMHS: "I think the more you are involved and a member of school culture, the more likely you'll continue to participate and want to stay involved," he explained.
With regards to which events they find to be most impactful, Mr. Bree greatly highlighted the charity-based Spirit Week events: Penny Count and Can Drive. He cited them as being powerful, because of how they benefit those in need. "I find the community service element of them, how we give back to people, to be the most impactful," Mr. Bree elaborated. 
Similarly, Mr. Romea explained the evolution of Spirit Week by adding the Quizzo trivia event as being his personal favorite because it promoted inclusiveness and encouraged a more diverse group of students to participate in Spirit Week. Mr Romea further explained, "It makes more people get involved and by extension, if you participate in Quizzo, you might participate in another event. Since we created Quizzo, a lot more students have been a part of Spirit Week."
The two cited similar events as being the most stressful to organize: shows like Mr. HMHS and Memorial Day as well as Student Council elections. Mr. Bree shared how the high stakes in the public performance of Mr. HMHS and the seriousness of an event like Memorial Day make them particularly overwhelming. Mr. Romea shared how the process of announcing the winners and losers for Student Council elections is particularly hard on him as it requires telling a handful of qualified students that they were not elected. "I think we both struggle with doing that. It doesn't feel good," Mr. Romea finished. 
Finally, both noted excitement over the upcoming Spirit Week and other Student Council events coming up this year: "We are confident that this year will run well and are really looking forward to it. With the construction complete, our officers are excited to bring back some old traditions as well as try new things," Mr. Romea articulated.