Therapeutic Riding Brings Social Emotional Health to Local Students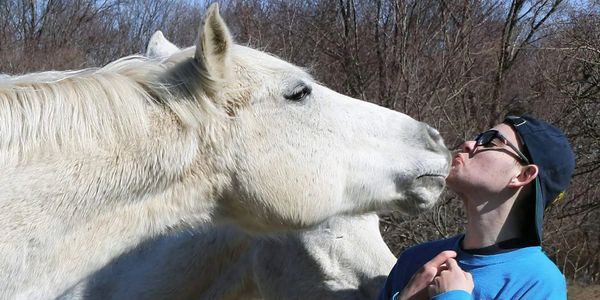 When thinking of coping mechanisms for those with special needs, horseback riding is probably one of the last things to enter one's mind. How can a 1200 lb, unpredictable beast possibly help someone with special needs?
 "It helps them to gain muscle, gain verbal skills, and gives them a great sense of independence, along with allowing them to socialize with new people," states a lesson instructor at Moorestown's Majoda Stables. Unlike most barns, Majoda Stables offers not only regular lessons, but therapeutic ones, too. The small amount of barns that do offer therapeutic riding are usually limited strictly to therapeutic riding, nothing more. Majoda, however, includes everyone. No matter the age, or how able they are, they are always welcome to ride.
A usual therapeutic lesson consists of mounted stretches, brain exercises, a quick trail ride, and even sometimes a little game, such as "red light, green light." Of course, lesson activities depend on the condition of the student. Students often laugh, smile, and even sing while they are enjoying the lesson.
Many of Majoda's students have truly thrived since joining the program. "Their vocabulary has grown dramatically and they really love the activities during lessons."
Those with special needs benefit not only from Majoda's riding program, but equine therapy as a whole. Simply being with the animals and the environment as a whole has helped students tremendously. "The students love being around the animals and spending time at the barn." 
Horses have been found to be therapeutic not only for those who are less able, but everyone. Some of the volunteers who have harsh pasts or mental health issues, mainly depression, have managed their symptoms since being involved with barn. A volunteer and rider explains, "Before I got here (Majoda Stables), I had severe depression. I genuinely felt like I had no purpose. Like, what was the point of doing anything anymore? I started volunteering and eventually riding here because I wanted to get away from everything. I wanted a place where I could feel safe and just have a good time and make friends who I could share my love of animals with. I would have never guessed that I'd be as happy as I am today. My depression literally vanished after just a month or two of coming here. It makes me so happy that I'm able to confidently say that I feel like I have a purpose now."
Majoda has become a safe and special place for students. A place where they can have fun, learn, and feel welcome. This program has made it clear that horses don't need to have horns and wings to be magical, but they change someone's life for the better all on their own.
About the Writer
Sydney Bonner
Sydney Bonner, Class of 2023, is a current student in Mr. Usher's Journalism class.