New Safety Initiatives at HMHS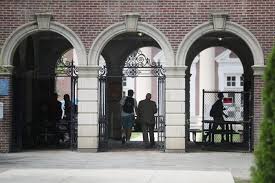 With the rising threat of school shootings and other dangerous incidents, the Haddonfield School District is making strides to face the challenge and has begun the journey of taking steps to alleviate the threat of violence in the community. This has been a keystone issue in politics and society this year, and CBS News reports that as of September 1, there were 283 mass shootings in the U.S in 2019. Two of the leaders in this movement to keep Haddonfield Memorial High School safe, principal Mrs. McHale and Officer Young, gave their opinions and goals for protecting Haddonfield.
Mrs. McHale, fresh off of her appointment to principal and dropping of the "interim" title, conveyed her fears about the threat of violence in school and her responses to the school board on the issue. She sat down to discuss new policies and any parental issues that came with the changes. Because of her position as principal, she is now able to focus on long term planning, fulfilling the vision of HMHS's Student Council and make changes to the school easier. 
When asked about parents' reactions, Mrs. McHale was overjoyed that parents were understanding and supportive of the new school safe climate initiatives in their committees. Because parents no longer have to enter school with the altered drop off procedures, it definitely keeps the threats of unauthorized visitors at bay.. 
Another detail Mrs. McHale mentioned was how administration and students can help. For the administration, McHale rests assured that the superintendent and school board, county, state, and nation is constantly researching new information, while also listening to student concerns. As far as student involvement is concerned, McHale encourages everyone to follow the "See Something Say Something" code, as well as being instinctive, helpful, and finding a teacher, counselor, or trustworthy adult that you feel comfortable reporting to.
Our school's new School Resource Officer Young also detailed the work she does and how she hopes to personally better HMHS. Officer Young is a retired Class 3 officer who was a member of the Haddonfield Police Department. She patrols the school daily, keeping her eyes and ears open, looking for any activities deemed suspicious. Currently, she is focusing on the new RAPTOR Key Card System, preventing doors from being propped open, and is hoping to correct how long the doors remain open for.
Just like Mrs. McHale, Officer Young has gotten no complaints so far this school year. Although Officer Young patrols the grounds and exterior every school day, she stressed that it is largely the responsibility of the students to keep the school safe. To do that, the student body needs to keep their key cards on them, use the RAPTOR system, not let people in through the front door, report suspicious activities to staff, and notice if other students seem out of character or "off". Officer Young might not know everyone's name and background just yet, but other students do. As much as the state and school board can promote safety, it is also the responsibility of the student body to help keep HMHS protected.