Wintertime is the Perfect Time for a New Book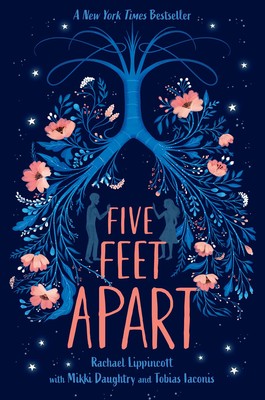 Grace Schaeffer, Staff Writer
January 25, 2019
Five Feet Apart, by Mikki Daughtry, Tobias Iaconis, and Rachael Lippincott is one of "those" books. You know the kind. The girl-meets-rebellious-boy-and-falls-in-love kind. The story follows Stella, a meticulously organized, and actually quite loveable teenage girl who has Cystic Fibrosis, and Will – the impossibly charming, snarky, comic-doodling boy she falls for. Or vice versa. But here's the catch: it's a romance in which the protagonists can't get within six feet of each other because of Stella's risk for infection. Nevertheless (or perhaps because of it), the book was a tearjerker, so pack some tissues just as a precaution. And let's hope that the movie doesn't botch up the many good and redeeming aspects of the book. And if you don't want to read it – you can watch it soon in theaters. (Riverdale fans, Cole Sprouse will star in it alongside Haley Lu Richardson).
On the subject of romance, you can find a very offbeat and quirky not-quite-a-love-story in Aristotle and Dante Discover the Secrets of the Universe. This book by Benjamin Alire Sáenz is a gripping, gritty yet sweet story of self-discovery – and it centers around the title characters Ari and Dante. Through several summers, mishaps and nightmares, jobs and stresses both of them gradually discover the secrets of their own universe. And yes, I did tear up several times, so maybe some tissues for this one if we're being completely honest.
The Song of Achilles, by Madeline Miller, gives life to an entirely different side of the brutish, bloodthirsty man displayed in Homer's Iliad. Narrated by Achilles' best friend (and maybe something more?) Patroclus tells the story of the Trojan War and Achilles' childhood through a bystander's eyes. Often left out of the stories, the book sheds light on Patroclus' heroism as well, exemplified by his rescuing of a slave girl and persuading Achilles to spare several important people. Agamemnon and the famed Odysseus also take to the stage for this high stakes novel. But fair warning, there are a lot of graphic depictions of violence. And if you know the tale, maybe this will lead you to a new understanding of what the mighty Achilles real hamartia was. (Hint: It's not his heel).
For fans of horror, Doctor Sleep, by the famed writer Stephen King, is a sure-fire way to give yourself chills. The book is a sequel to The Shining, and it centers around the now grown up Dan Torrance. Dan is a recovering alcoholic and resident volunteer at a nursing home. The ghosts of The Overlook are long gone, but a new issue has risen. Abra Stone, a twelve-year-old with a powerful shining has attracted the attention of a dangerous cult. And Dan Torrance makes it his redeeming mission to keep this girl from harm. And hopefully he can keep himself from harm as well, because his shining is slowly disappearing…
And last but not least, for fans of fantasy Three Dark Crowns, by Kendare Blake, is a magical tale of a race to become the queen of The Island of Fennbirn. In each generation, the reigning queen gives birth to triplets (all girls, no exceptions). Then, when the girls turn sixteen, the competition begins. The last princess standing is the new queen. Each of the girls- Arsinoe, Mirabella, and Katherine, must harness their powers in order to kill the others in a high-stakes game of chess where the queen is the most important piece on the board.