Disney Trip is Pure Magic for Seniors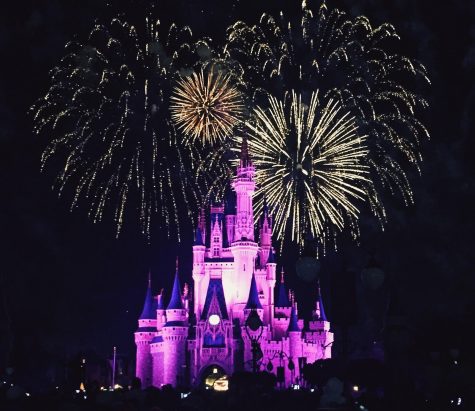 Senior trip. It's the the thing most of high schoolers at HMHS look forward to from the day they step into the breezeway on that first day of Freshman year to the first step off the plane, feeling the Florida heat even in the airport. It's a time we get to bond with our classmates in new and special ways, and you see completely new sides of teachers, such as Mr. Banos' palm tree selfie of the day on snapchat.
Most of us wonder if the senior trip will really live up to our expectations, and from what the Class of 2016 Disney trippers said, it sure did. From character breakfasts where Eeyore was up for all kinds of hugs, to tears at the sight of Captain America at Universal Studios, it seems like our graduating class had quite the adventure. Even those who couldn't get around as well as others said they had a blast hanging out with friends and getting automatic fast passes. We talked to some resident seniors to see how the trip really panned out and here are some first-hand accounts.
When talking to Olivia Plunkett, she reflected, "I got to meet so many adorable characters and loved every minute of it. It's crazy that I'm almost done high school!!"
Bridget Poisel posted on Instagram, "Never been happier" as a caption to a picture of her and some of her besties and Julia Bennett remembered, "My favorite place with my favorite people" of the time spent in Magic Kingdom. This really highlights what the trip is all about – connecting with your friends and classmates and celebrating the four-year journey classmates took through HMHS together.
Overall, the seniors had a blast running around the parks with their friends. Some thought Animal Kingdom was the best, others cried seeing the fireworks over Cinderella's castle. Senior trip seems to be worth the four years of hard work every student puts in dealing with difficult classes and class drama, and helps people realize that although their time at HMHS is coming to a close, they will always share the experience.
Reilly Connelly made an Instagram post calling her trip: "Complete bliss" and from what we at the Bulldawg bulletin can tell, it really was.