To Be a Doctor in a Pandemic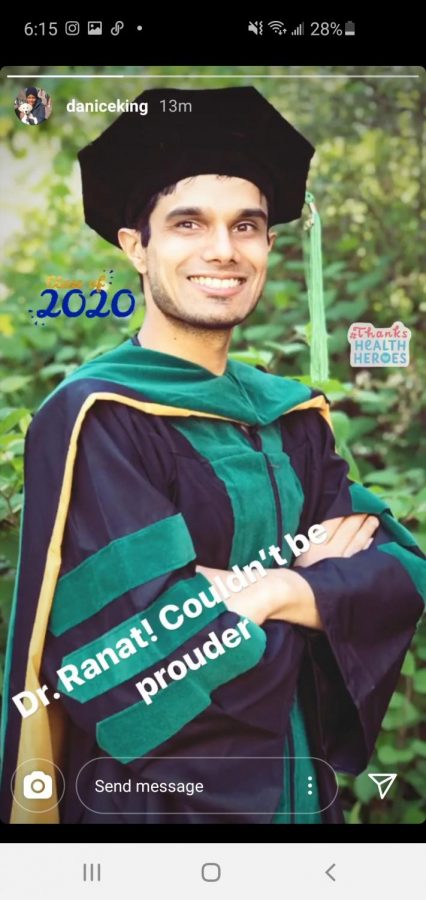 Jessica Goode, Staff Writer
July 13, 2020
Doctors are the people most of us rely on for what we should do during the COVID-19 crisis. Doctors and nurses are out there saving lives and putting their own at risk. Many families worry about their loved ones in the medical field during these times. But for doctors and nurses it is their passion and what they studied.
Because of the rapid spread of COVID-19, hospitals in the New York metropolitan area called for third and fourth year medical students to help hospitals combat the growing number of patients. My cousin Danice's fiance, Riki Ranat, a fourth year medical student at the American University of the Caribbean School of Medicine, answered this call and began seeing COVID-19 patients at the Danbury Hospital in Connecticut. He and other doctors would see up to 15 patients a day. He said that he was anxious and nervous working with patients.
Before COVID-19 Riki was used to working at a desk, listening to what the professor had to say. When he had to go to the hospitals and see all the patients, he had to learn in the moment, which was something hard to grasp. Sadly, Riki and Danice caught COVID-19, or at least think they did, since their illness was not confirmed. They were forced to stay home and rest. The hospital mishandled their test results, but they are sure they had it. Danice described being very tired and having a horrible cough. Her fever was low grade and thankfully the case seemed mild to moderate. Yet, they both had finals to complete. Riki had to complete his medical school finals while Danice was finishing up her MBA at Yale. Riki and Danice completed their finals from home. They still had to do school full time but thankfully they powered through it and graduated. Both of them are feeling better.
As a final note Riki feels, based on his experience treating COVID-19 patients, that we as a country need to be more cautious and follow guidelines. If we don't do this the number of cases will rise. But if we follow all the rules, the numbers will go down and when the vaccine comes that will benefit us too.
About the Writer
Jessica Goode, Staff Writer
Jessica Goode, Class of 2022, is a member of the Bulldawg Bulletin. She has written for the Bulletin since freshman year. She is a current student in Mr....