Ms. Dickstein Hughes Wins State Teacher of the Year!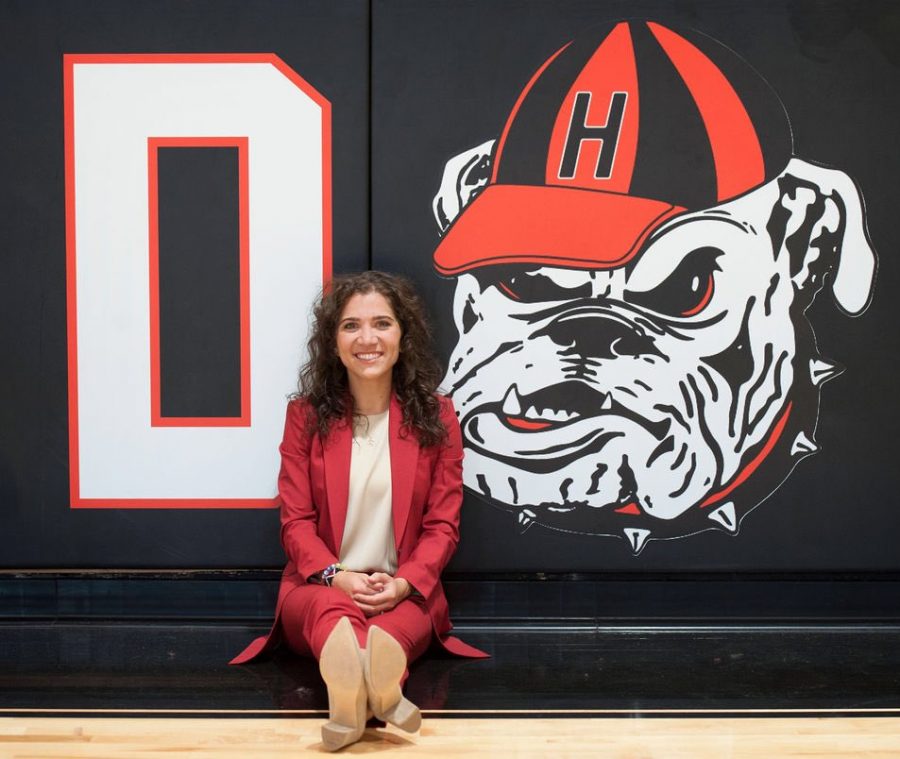 Sam Raus, Contributing Writer
October 16, 2019
Haddonfield Memorial High School English teacher Ms. Kimberley Dickstein Hughes (recently married on September 28th) has been awarded New Jersey State Teacher of the Year by the New Jersey Department of Education, after undergoing a rigorous nomination and consideration process. 
Ms. Dickstein Hughes is known throughout HMHS for teaching 10th grade Accelerated English, Greek Drama and Shakespeare to Seniors, and began teaching Public Speaking this year. In the school community, Ms. Dickstein Hughes is also notable for her work as a co-advisor to both the Haddonfield Model UN and Stand With Camden clubs. 
Additionally, last year Ms. Dickstein Hughes worked with a group of her senior students to establish a project to fund for Garang Buk Buk, a former child soldier from South Sudan, to attend Emory University. The project was undertaken in correlation to a book read in the sophomore Accelerated English curriculum, A Long Way Gone by Ishmael Beah, which is an autobiography of Beah's experiences as a child soldier from Sierra Leone. The Garang Buk Buk project ultimately fundraised over $50,000 to pay for Garang's tuition to attend Emory.
Beginning her teaching career at Haddonfield in 2008, after student teaching in 2007 with her now-colleagues in the HMHS English Department, Ms. Smart and Mr. Scorsolini, Ms. Dickstein Hughes has been at HMHS for 12 years. 
When interviewed on receiving the Teacher of the Year award and her career as a teacher, Ms. Dickstein Hughes had considerable insight and experience to share. She explained the position of a teacher and her role on a daily basis at school by sharing, "I am a different role for my different students. For my freshmen, I see myself more of a nurturer and a parent, and I am there to make my students feel safe. For my upperclassmen, I've seen myself more as a coach and as a guide because they will be moving to the next stage of their life and need that more. So I think you really do need to wear a different hat for each person, and it's really hard to do that when you first start teaching because you think you need to do everything for everyone".
Ms Dickstein Hughes also shared specifically about two Senior year English electives which she has taught for seven years now and has written the curriculum for: "My favorite course[s] to teach would be the Shakespeare and Greek Drama electives, especially the Shakespeare elective because I was able to make it my own and collaborate with my students to create what the course looks like. The Shakespeare course changes every semester because I teach what is being performed in the South Jersey and Philadelphia region, so no two Shakespeare courses have ever been the same."
Ms. McHale, Principal Haddonfield Memorial High School, commented on Ms. Dickstein Hughes's accolade by sharing, "I am extremely excited for Mrs. Dickstein and believe she is well deserving of this honor. Our teaching staff is wonderful and this shows how collaboration and teamwork benefits it all. Ms. Dickstein's passion for the profession shows in everything she does and we are very lucky to have her". 
As shared in an interview with The Patch when Ms. Dickstein Hughes won the Camden County award this August, Assistant Superintendent and former HMHS Principal Mr. Klaus articulated, "Kim's diligence, passion and dedication to improving her practice and dedication to her students is indicative of what we value in Haddonfield. In addition, she puts into practice the belief that education is not confined to the brick and mortar of a building. She motivates students to drive their passions and put them in practice, so they can make an impact on the world. This is a lesson that her students will use as a guiding principle in their lives."
"
"Kim's diligence, passion and dedication to improving her practice and dedication to her students is indicative of what we value in Haddonfield. In addition, she puts into practice the belief that education is not confined to the brick and mortar of a building. She motivates students to drive their passions and put them in practice, so they can make an impact on the world. This is a lesson that her students will use as a guiding principle in their lives.""
— Mr. Klaus